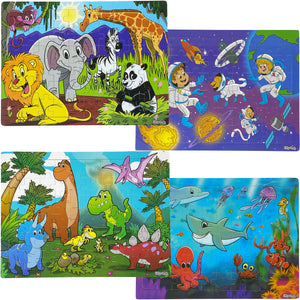 Elly & Andy Set of 4 Wooden Puzzles 60 pcs - Dinosaur, Safari, Ocean, Space Designed in The USA for Kids Ages 3-7 Preschool Educational Learning Toys Set for Toddlers
Regular price $19.99 $14.99 Sale
😊EDUCATIONAL ACTIVITY TOY SET - The jigsaw puzzle aims at training kids imagination, eye-hand coordination and color shape recognition. Various colors Help your children promote letter recognition, color recognition, and phonetic awareness.
🌈LEARNING WHILE HAVING FUN - Children love puzzles! They're fun, brain boosting, stimulating and they'll learn while playing! Not only provides engaged play-time for kids, but also helps practice problem-solving and spatial reasoning as they work to complete the puzzle.
😊QUALITY FAMILY TIME - In the process of playing and learning, enjoy the joy of family with your kids . Spend more time in accompanying children and don't miss the growing time with them. Let your kids create colorful childhood dreams.
🌈CONVENIENT TRAVEL SIZE - Four 60-piece jigsaw puzzles in favorite themes: Dinosaurs, Zoo Animals, Sea Animals, and Space! Each Puzzle is 12 x 9 x 0.7 inches so they are compact, light, and great for traveling.
🎁GREAT GIFT FOR YOUR LOVED ONES - Eco-friendly non-toxic wooden puzzle pieces with soft edges that are easy for toddlers to use. Give this set as a baby shower gift, birthday gift, Christmas gift, a job well done, your thoughtful present will put a big smile on a cute little face.
Each one of our USA designed unique puzzles for kids provides an educational development tool to enjoy. Four fantastic puzzle designs: 1) Ocean Sea Life - This puzzle features a baby shark, octopus, seahorse, jellyfish, clown fish, star fish, and many more! 2) Zoo Animals - Set in the Jungle, enjoy puzzling together with a Loin, Elephant, Panda Bear, Zebra, Monkey, and Giraffe. 3) Space Exploration - Our outer space puzzle features two kids in space suites, a space station, their pet dog and cat in a spacesuit, planets, a meteor, and satellite. 4) Dinosaur Age - Teach kids about the age of the dinosaurs when Tyrannosaurus Rex, Stegosaurus, Brontosaurus, and more roamed the earth! This set is a perfect kindergarten puzzle to really start flexing their eye-hand coordination, problem solving skills, and more. These puzzles for children ages 3 to 7 each have the complete design printed on the puzzle tray for the kids to easily reference as they spend time putting the puzzle together. The puzzle backing material is made of wood and so unlike cardboard puzzles, this set will last for generations to enjoy.