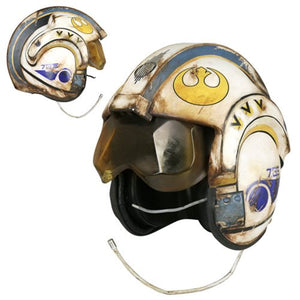 Star Wars: The Force Awakens Rey Salvaged X-Wing Pilot Helmet Prop Replica
Regular price $349.99 Sale
Helmet is assembled and ready to wear with weathered finish and Tierfon Yellow Aces markings!
Digitally scanned for exacting reproduction.
The outer shell is made of ABS plastic and painted to duplicate the look of the original asset.
Interior is fully lined for a finished appearance including dual comlink booms and earcup cushions.
Helmet size adjustment system ensures a comfortable and secure fit.
Rey is a Jakku scavenger, a survivor toughened by life on a harsh desert planet. Like nearly everything she owns, Rey's X-wing pilot helmet is salvage from the wreckage that litters Jakku. Her helmet once belonged to Rebel Captain Dosmit Ræh of the Tierfon Yellow Aces. This Star Wars: The Force Awakens Rey Salvaged X-Wing Pilot Helmet Prop Replica was recreated using reference of the original screen-used production asset. It is not a toy and is not suitable for children. It does not offer protection. Please note: most Anovos helmets fit up to a size 8 US hat size.
This is a preorder due to be released in April 2020.